Equipment Rails and Accessories
Nexxspan™ Equipment Rail System provides user-defined organization & system flexibility with limited cost and facility disruption. Our medical equipment management rail system effectively manages supplies without the use of carts or cabinets. The result is optimum access to equipment hospital medical personnel use regularly.
Fairfield Medical® – Rail Foundation
Nexxspan™ Healthcare's history dates back to 1968 when the company was known as Fairfield Medical®, the market leader in equipment rail systems and adapters. Since that time, thousands of equipment rails have been installed nationwide.
Our Nexxt generation rails offer new and improved rail technology and accessories. In honor of our long standing history and commitment to our customers, these rails were designed to be compatible with the previous Fairfield rail system.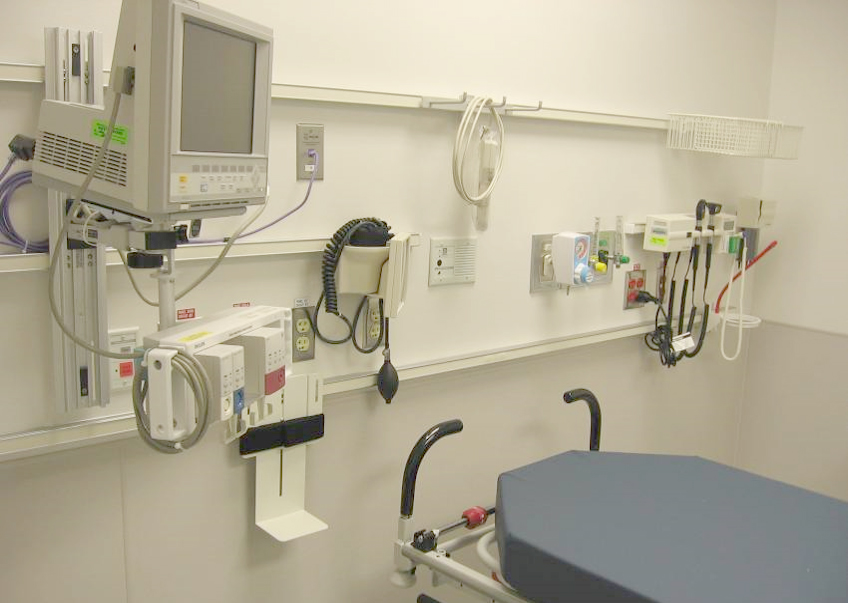 Flexibility

Equipment can be easily moved without the need for construction
Personalized work flow
Inventory control initiatives easily adaptable
Mount equipment where needed – no tools needed

Easy Expansion

Simple medical gas expansion
Adaptable and expandable for future needs
Integrated architectural design
Accommodates overflow demands easily
Reduced construction and installation times and costs

Convenient




Easy relocation of devices
Infection control equipment mounted where needed
Mass casualty applications to manage surge populations
Installation with minimal disruption

System Customization

Available in 1-10 foot increments
Light duty and heavy duty rails based on support structure
Custom color inserts to match location
Over 450 accessories
Compatibility adapter to attach existing accessories to rail
Accessories

Specialty accessories that are intended to solve some of the other needs near the patient's bedside are available.
Options
Rails

Light duty rail – for use on equipment where a support structure is available
Heavy duty rail – for all other installations such as on walls

All rails feature a light grey laminate insert. Custom color inserts are available to match a facility's decor. Rails can be ordered in any increment from 1 ft to 10 ft. Several types of adaptors are available to make existing equipment compatible with the Nexxspan rail system. Note: most existing Fairfield components may be transferable to new rail installations.

Gas Management

Our rail-based gas management solutions allow hospital rooms with inadequate gas supply to be brought up to code with minimal disruption and cost.

Infusion Management

These accessories are fully rail-compatible and permit IV poles and IV hangers to be placed almost anywhere near a patient.

Monitor Management

Brackets, shelves and articulated arms help users to place monitors where they can be seen and reached.

Waste Management

Waste and sharps containers can be strategically located.

Storage

Storage and presentation of diagnostic tools, disposables, gloves, tissues, supplies and other frequently-used items is always a problem in crowded patient rooms. Our assortment of shelves, baskets and specialty containers keep the patient area organized and neat.