The Nexxspan™ Medical Equipment Rail allows you to bring infection control devices exactly where you need them. On a wall, by the sink or on a mobile supply cart, proper placement of infection control devices is now possible without compromise – real infection control solutions from Nexxspan.
Appropriate positioning of infection control products heightens staff awareness and increases the likelihood that appropriate procedures are followed to prevent the spread of infectious disease.
With ever changing purchasing contracts and product preferences, the need to change dispensers is common. By placing dispensers on the Nexxspan™ Medical Equipment Rail, the facility can change out equipment for infection control easily without the need for drywall patching or painting.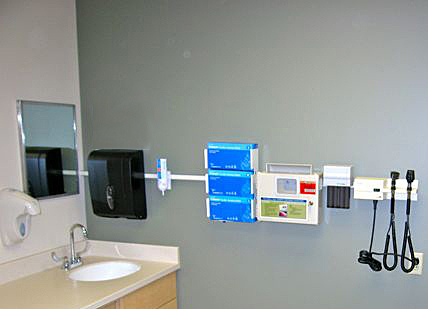 Convenient

Infection control equipment mounted where needed
Easy relocation of devices without tools

Flexibility




Equipment can be easily moved without the need for construction or repair
Rail adapts to new devices
Adaptable and expandable for future needs
Mount any brand of dispenser or device on the rail

Promotes Infection Control




Bring infection control devices where you practice, i.e. wall, sink, mobile supply cart, etc.
Full removal and disinfecting of equipment

Reduces Costs




No wall repair as dispensers change
Swap adapters to replace broken dispensers rather than patch holes when dispensers are removed
Accessories

Rails

Light duty rail – for use on equipment where a support structure is available
Heavy duty rail – for all other installations such as on walls

All rails feature a light grey laminate insert. Custom color inserts are available to match a facility's decor. Rails can be ordered in any increment from 1 ft to 10 ft. Several types of adaptors are available to make existing equipment compatible with the Nexxspan rail system. Note: most existing Fairfield components may be transferable to new rail installations.

Waste Management

Waste and sharps containers can be strategically located.

Storage

Storage and presentation of diagnostic tools, disposables, gloves, tissues, supplies and other frequently-used items is always a problem in crowded patient rooms. Our assortment of shelves, baskets and specialty containers keep the patient area organized and neat.