Vertical Headwall
Matrixx-M
The Nexxspan™ Matrixx-M™ Vertical Headwall and hospital equipment management system is the optimal integration of form and function. The flexible two tower design provides the facility a choice in the number of towers to meet the needs for a variety of critical care areas. Perhaps one tower for ED or Trauma and a pair for ICU areas. The choice is yours.
The Matrixx-M™ was designed to be adaptable to the working environment and to the patients' needs by allowing equipment to be placed where needed to optimize working height and reach. The system has a wide range of equipment management capabilities including a 38mm pole for mounting of monitors and infusion pumps, as well as the Nexxspan™ Equipment Rail for support of clinical tools and accessories.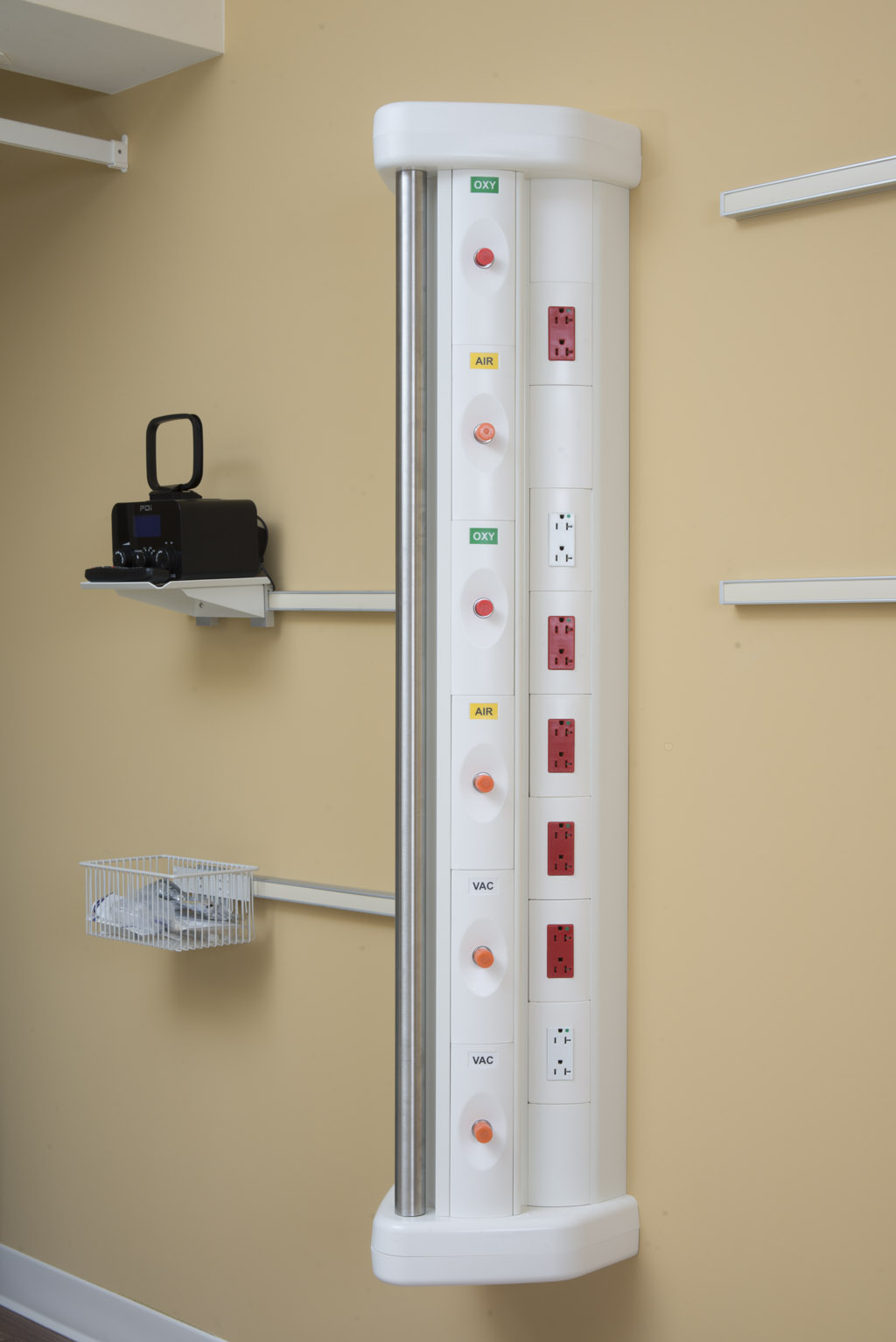 Ergonomic Design


Two levels of fully dimmable, ambient lighting
User specified location of gas and electrical service during installation
Adjustable for optimizing working height and reach
Smooth, contoured design for easy cleaning and infection control

Workspace Flexibility


One or two tower configurations
Equipment can easily be positioned or repositioned to personalize work space
Multiple rails and poles allow for easy equipment positioning and repositioning to meet patient and clinical staff requirements

Easy Expandability


Equipment rails can be added to increase capacity
Medical gas expansion without construction
Blank outlets are available for future expansion

Decreased Costs


Simplified rough-ins reduce the cost of installation
Expand without construction
Rearrange equipment and accessories without tools or construction
Accessories

Specialty accessories that are intended to solve some of the other needs near the patient's bedside are available.
Options
Gas Management

Our rail-based gas management solutions allow hospital rooms with inadequate gas supply to be brought up to code with minimal disruption and cost.

Infusion Management

These accessories are fully rail-compatible and permit IV poles and IV hangers to be placed almost anywhere near a patient.

Monitor Management

Brackets, shelves and articulated arms help users to place monitors where they can be seen and reached.

Waste Management

Waste and sharps containers can be strategically located.

Storage

Storage and presentation of diagnostic tools, disposables, gloves, tissues, supplies and other frequently-used items is always a problem in crowded patient rooms. Our assortment of shelves, baskets and specialty containers keep the patient area organized and neat.